[vc_row][vc_column][vc_custom_heading text="How to be a NoBull Foodie!" font_container="tag:h2|text_align:center|color:%23428056″ use_theme_fonts="yes"][/vc_column][/vc_row][vc_row][vc_column width="1/4″][us_image image="8778″ align="center"][/vc_column][vc_column width="3/4″][vc_column_text]Eating healthy does not need to be boring. Tired of the same old salad? Go out of your comfort zone and try a new fun recipe! Here are some of our top NoBull 'foodie' recipes: 
NoBull Breakfast Dosa 
Craving a hearty breakfast burrito? Try creating a NoBull breakfast dosa for your next Sunday Brunch. A classic Indian Dosa starts with a thin crispy crepe made with fermented rice and lentil batter. The best way to make this classic dish unique is to stuff the crepe with all of your favorite things. Cook up some eggs, black beans, any NoBull flavor, and slice up some avocado. Top with pure maple syrup for a sweet and savory experience!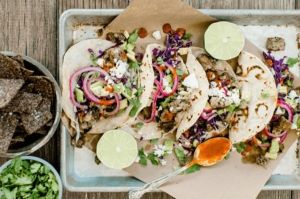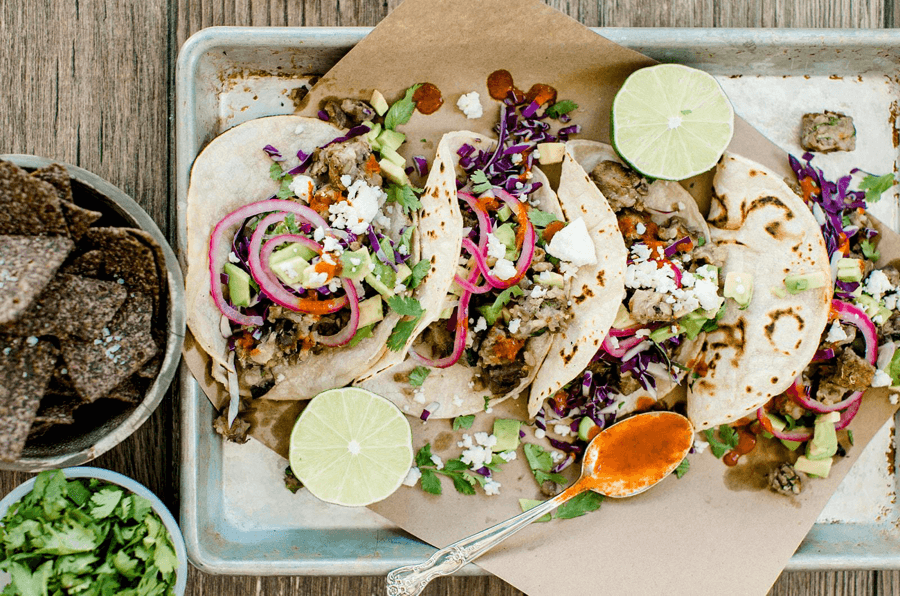 NoBull Cauliflower Tacos 
Tacos are one of the easiest recipes to make Vegan -Not to mention they're fast, cheap, and totally customizable. Start by roasting cauliflower and your favorite NoBull flavor (we recommend Savory Mushroom or Original) with some taco seasoning on the stove. Grab flour or corn tortillas and top your taco with cilantro, spicy chipotle sauce, and guacamole. Is your mouth watering yet?
NoBull Lettuce Wraps 
What? A veggie burger with an Asian twist? Lettuce wraps are great finger foods that are extremely simple to whip up. To create the sauce, whisk hoisin sauce, soy sauce, rice wine vinegar, sriracha, and sesame oil. Next, fry up some NoBull (we recommend Original) on the stove with onion, garlic, and ginger. Pour the sauce into your NoBull mixture and start stuffing your lettuce wraps. Feeling hungry? Add rice for some extra fiber. Easy peasy!  
NoBull Loaded Baked Potatoes
Not only are potatoes great for your vision and brain, but they also taste AMAZING. If you're looking for a healthy and filling vegetarian dish, a loaded potato with some NoBull makes for a fantastic 20-minute dinner. Start by either roasting your potato of choice in the oven or throwing it in the microwave for five to ten minutes. After the potato is cooked, get creative with your toppings. Our favorite is mixing up some black beans, onions, NoBull Madras Curry, and topping it with Vegan cheese. Holy YUM! 
Have your own favorite NoBull foodie recipe? Share it with the world by tagging us on Instagram, Facebook or Twitter! [/vc_column_text][/vc_column][/vc_row][vc_row][vc_column][us_separator size="large" show_line="1″ thick="5″ color="custom" bdcolor="#428056″][/vc_column][/vc_row][vc_row][vc_column width="1/3″][vc_column_text]1139A River Road
Charlottesville, VA 22901
info@nobullburger.com
Phone: (434) 975-6628
Fax: (434) 975-0077[/vc_column_text][/vc_column][vc_column width="1/3″][vc_raw_js]JTNDc2NyaXB0JTIwdHlwZSUzRCUyMnRleHQlMkZqYXZhc2NyaXB0JTIyJTNFJTIwYWxlcnQlMjglMjIlNUJtYzR3cF9mb3JtJTIwaWQlM0QlMjI4NzA2JTIyJTVEJTIwJTNDJTJGc2NyaXB0JTNF[/vc_raw_js][/vc_column][vc_column width="1/3″][/vc_column][/vc_row]